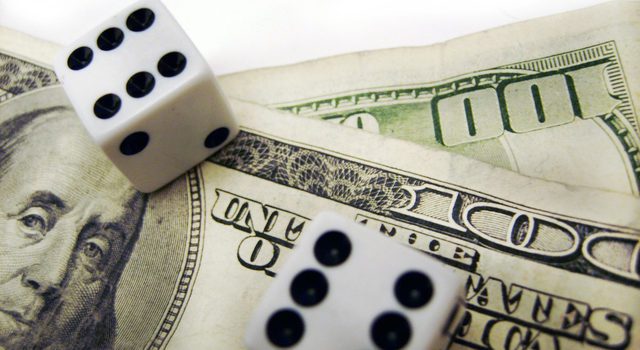 Have you ever taken a trip to Vegas? If so, have you gone with the intention to have fun and hope that luck is on your side or have you gone with a plan? Have you thought about what you're going to do ahead of time?  Here's an example: I'm going to take this much money with me.  I'll allow myself to lose this much per day; if I win I'll put this much back in my pocket and not touch it.  I'll also plan on seeing some shows – hitting some of the better restaurants – get the full Vegas experience.  Oh yeah, ahead of time I'll learn a little about the games I want to play so I don't go in blindly.
Now the cards you draw or the dice you roll are still a key component of deciding if you win or lose, but you put the odds a little more in your favor.  You'll have an idea of when to walk away – when it's okay to take a chance, but you won't totally lose the game because you've allotted yourself so much to gamble with.  Having a business can be looked at in much the same way – a gamble, but typically the stakes are much higher!
In business you're putting yourself out there.  Running a business often entails using personal resources, extra time away from family and friends, missing important events, even risking your health.
The thrill of it can be just like the experience of winning big in Vegas, even better, but the effects of the hardships are often devastating personally as much as professionally.
Imagine yourself in the midst of Vegas on a busy night.  The magnificent lights along the street, from the slot machines in the casinos, wall to wall people walking down the streets, bumper to bumper cars flowing in traffic, the roar of people clapping and cheering when the dice are rolling in their favor at the craps table, players chatting away and making new friends as they can't miss a good hand at the blackjack table and you're winning big.
Now imagine you in your business, something you've built up on your own, having the clients or customers you want because you built a product or service just for them and they love it; you've helped thousands (maybe even millions) because the clients you helped were able to help more of their clients since you provided them something they needed to move forward or maybe it was how many families or people you helped get through a difficult time or enjoy life a little more.  No matter – you get the idea; you've achieved a win-win situation more than you ever expected when that thought of starting this venture popped into your head.
I digressed haven't I?  I got so excited of what your financial core, your strategic plan, can do for you in the various stages of your business endeavor, and yet, skeptic when I see how it can just as easily harm you when ignored.  That's how things are, right?  When doing well or growing in your business or winning in Vegas, you're totally exhilarated and feel like there's nothing you can't do!  When the downfall hits, however, you feel like the ground fell out from under you.  Things tend to go wrong in your business and then things start to go wrong with you personally as well.
The different segments of your business are dependent on one another and if you're not running each as such, things will fall apart. Remember it helps to look at it as a strategically.  Treating the elements of your business independently is a gamble, just as if you were in Vegas.
Here are a few tips to create higher odds for yourself and your business if you want your profits to soar and maintain control during the ups and the downs:
Clarify your long-term vision;
Adjust your mindset for the endgame and be more proactive – remember you want to be the quarterback not the firefighter;
Get your team on the same page and create lines of communication;
Create the processes that will help things run more efficiently and that will guide team members through their jobs without the need for micromanaging;
Know your numbers at all times;
Anticipate additional needs and resources so you keep control as you grow and move forward.
Review and revise as appropriate because what got you where you are today won't get you to where you want to be tomorrow.
If you need direction, give us a call to help create your 2020 business roadmap, https://bit.ly/2KGNUci.
Peggy Niles